As the saying goes, sometimes you don't know what you had 'til it's gone, yet when it comes to slumping sales revenue, you definitely know when something's amiss.
Customer retention strategies help keep your sales from falling victim to such axioms. After all, research indicates 80% of a business' revenue comes from only 20% of its current customer base. That's 80% of tomorrow's profits contingent on the relationships you likely established yesterday — yet may be neglecting, albeit innocently.
How can your business fine-tune its retention tactics to prevent customers from leaving? Discover some of today's top retention and recognition strategies to prioritize that 20% right alongside nurturing new leads.
Customer Retention Meaning
Customer retention is a marketing technique centered on building relationships with your current customer base to maintain their trust and business. Its goal is to establish true brand loyalty with those consumers, incentivizing repeat purchases and further brand engagement even when competitors enter their awareness, offering similar products, services and price points.
Establishing customer retention is one of the primary goals of every business. Regardless of industry, successful customer retention triggers a range of positive effects for your organization:
Creates more diverse and organic consumer touchpoints
Alleviates the pressure on direct sales pitches
Produces brand ambassadors
Increases market share
Spurs business growth
Importance of Customer Retention
There is a range of business benefits of customer retention strategies.
1. Wows and Delights Your Customers
Genuine customer retention isn't about your organization. It's about your customers — learning their motivations, expectations, pain points, wants and fears, then positioning yourself as the one who solves them.
Doing so puts you at a keen competitive advantage: You've established a personal connection between your brand and yourself, and a deep, values-based one, at that. Your products and services, as a result, seem fine-tuned just for this customer, for their lifestyle and their personality. Such efforts would make anyone feel special — and turns your business into an integral part of customers' lives, aligning value and happiness.
In short, when you deliver a connection above and beyond a traditional sales transaction, real people respond.
2. Boosts Customer Lifetime Values
Customer retention strategies shape your business to put more revenue back in its pocket using a fraction of previous marketing resources. There are few ways in which this is more evident than its ability to increase your average customer's lifetime value — in other words, the net profit you will make off all future transactions with that consumer.
Existing customers are 60 to 70% more likely to buy your products, compared to only 5 to 20% for a new prospect. However, you'll spend five times more money convincing that prospect to make that same purchase. Meanwhile, retained customers will pay an additional 31% more per transaction than first-time customers or clients.
These stats don't lie: Retaining customers is not only an operational best practice. It's a financial one, too.
3. Differentiates You From the Competition
In an age when consumer choice has never been higher, yet consumer attention span has never been shorter, businesses across fields must stand out from the crowd. Customer retention strategies offer a prime way to do so.
Because retention strategies prioritize the individual, consumers are far more likely to feel your business cares about them on a deep level. That care translates to an emotional connection that transcends the nearly 3,000 to 10,000 ads we see every day.
If your competition is particularly savvy when it comes to acquisition, lead conversions or even holds a more substantial market share, all the better. Your customer care and attention go a long way to fuel your broader brand reputation. You'll stand out from these competitors in the long run — and spend a lot less money doing so.
4. Gives Your Business a Little Wiggle Room

Studies show roughly a third of consumers will seriously consider taking their business elsewhere after just a single encounter with poor customer service.
The flip side? Customers satisfied with a company's customer servicing and general touchpoints are five times more likely to forgive after a servicing mishap. Even after unpleasant interactions, loyally retained customers are four times as likely to refer your business and seven times as likely to try a new product or service offering sent their way.
No organization is perfect. When instances do strike, and you encounter customer complaints, the trust earned from your customer retention strategies kicks in, leaving you far more likely to stay in their good graces.
5. Shifts the Nature of Your Business
Organizations that undertake authentic customer retention move from a transactional state of mind to a relational one.
From social media posts to email listserves, in-store interactions to over-the-phone customer service calls, be sure to shape all touchpoints with consumers toward building trust, transparency and warmth.
Add personalized touches to your messages — such as addressing customers by their name or thanking them for their most recent purchase — and you've gone the extra mile. Today, 79% of consumers already think brands should be demonstrating personalized care before they'll purchase from them. A similar 75% say they're far more likely to buy only from brands that recognize them by name or that make product recommendations based on past purchases.
6. Keeps You Plugged In
The customer-centricity of retention tactics means you have a finger on the pulse of consumer expectations. From abstract factors such as fears, hopes and motivations, to concrete ones like income, hobbies or preferred contact method, these expectations are fluid and ever-changing. Stay on top of what matters most to your consumers as they move across the customer journey, incentivizing them at every step.
Reasons for Losing Customers
What are the top reasons customers leave? The answers are intuitive — yet the solutions are not always so.
1. Poor Customer Service Experience
A poor customer service interaction can hemorrhage your customer base. It's the leading reason customers cite for ditching a brand, particularly if they've had a less-than-stellar direct conversation with a customer service rep.
Now, what exactly does this poor customer servicing experience look like? Fear any of the following:
Long wait times while on the phone or online
Repeated redirections/rerouting/"bouncing" around before problems get solved
Ignoring written customer reviews or ratings
Hearing the rage-inducing, "I'm sorry, there's nothing I can do about that…"
Repeatedly running out of stock
Generally assuming the worst about a customer's behavior or intentions
2. Product or Service Disappointments
Product defects are the second most common reason customers cite for switching businesses. The same logic applies for service industries, too. Customers left disappointed in the quality, usability or functionality of a good will be reluctant to return to your store.
3. Price Discrepancies
A portion of consumers are just plain price-conscious. Your product or service's price tag will be the only significant factor in determining their purchasing decision. Companies that offer price-matching policies or that can beat your prices will convert this category of consumer away from you, even amid savvy personalized marketing campaigns.
4. Inconsistent Business Presentation
The less professionally you present your business to the public, the less likely that public will take you seriously. Why would a consumer hand over their money, sign a contract or even subscribe to your email list when you display inconsistent, low-quality branding? Think typos on an old or poorly designed website, inconsistent logo usage and even lackluster social media posting.
5. They Don't Feel Valued

Consumers today seek authenticity and value from the businesses they engage with. Anything less smells like a hard sell — which few people enjoy being the recipient of.
Instead, define ways you can position your business to be an industry expert and helpful customer resource. Discover what topics are of most interest and value to your customers, then serve relevant answers and insights. Find ways to personalize messages when you do choose to directly market to consumers. Too much "hard selling," and you disrupt this valuable balance.
How to Stop Losing Customers
There are plenty of steps your business can take to implement successful customer retention strategies and nurture its base, including any or all of the following.
1. Track Your Customers' Journey
How well do you know your customers' journey? That is, where and when do people first hear about your business? Did they make their first purchase from you in person, or online? How much did they spend? What have they bought since then? Are they following you on social media, subscribed to your email list or interacting with you in any way outside of sales?
Without understanding these fundamentals of the buyer's journey — aka what motivated people to become your returning customers — you won't be able to tailor that process for maximum, meaningful customer retention.
2. Go the Customer Service Distance
Expand beyond the standard phone-based customer service line and offer a range of communication touchpoints. For example,
After-hours hotlines for emergency questions or concerns
Message switchboard or automated call transferring services, so customers go exactly where they need to be from the beginning of the interaction
Full-service help desks, online or over the phone
3. Engage With Consumers on Numerous Channels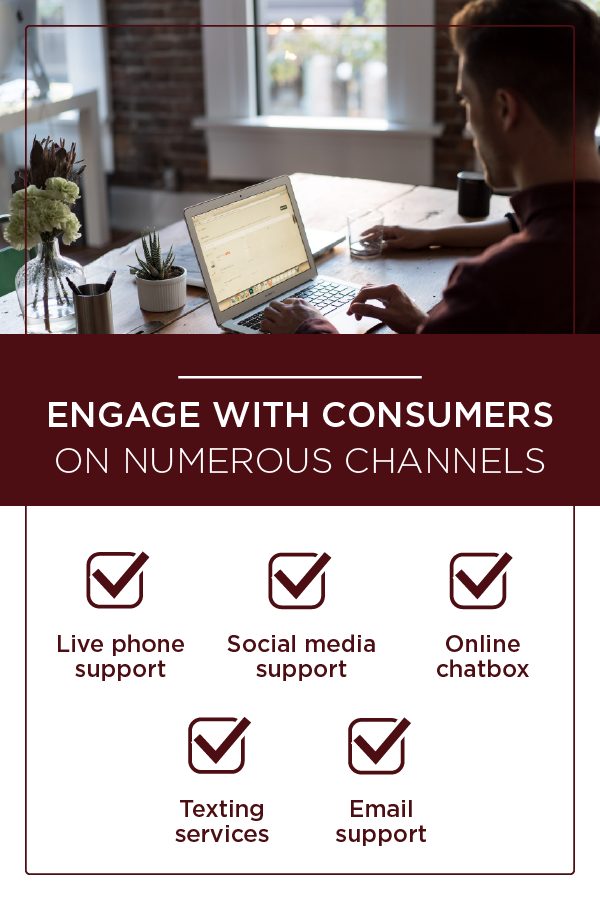 Customer retention also means meeting your customers where they are. Different demographics have varying go-to media. That choice will likely shape a customer's preference on how to seek general or technical support. Consider offering customer services across a few of these media — plus showcase your expertise at personalizing services along the way:
Live phone support
Social media support — including Facebook's chat function, Instagram direct messaging, etc.
Online chatbox through your website
Texting services
Email support
Just remember to respond promptly. Offering multiple customer service options backfires if no one's monitoring emails or answering Facebook messages.
4. Elicit Feedback
Conduct occasional customer surveys on what they enjoy about your brand and what they want to see improved. Making your business' products, services and operations a two-way street is one of the best ways to retain current customers and make those customers more likely to refer you. It also leaves customers feeling valued. And always, always, take that feedback in stride, thanking customers when they send it.
5. Call in Backup
Often, businesses have a list of customer retention strategies and activities to explore, but lack the ability to support them.
When this is the case, consider a managed service provider (MSP) offering customized telecommunications and messaging services. Helpful MSP services may include:
Call overflow support
Dispatch services with live operators
Call screening and routing
Full or part-time virtual receptionists
6. Simplify the Phone Customer Support Tree
Tackle one of the primary reasons customers leave by reducing your phone tree — the layers of steps customers must take to speak to a live business representative.
Few things are more frustrating than trying to call a business to clarify one small question, only to fall down a black hole of confusing routing and access procedures. Reduce this friction by enstating clear, automated phone trees for quick customer concerns, then redirecting the rest straight to standby live operators — not machines.
7. Communicate Consistently
Authentic customer retention strategies ensure you aren't interfacing with customers only when you're trying to sell them something. Instead, it broadens your content marketing and advertising to incorporate a range of branded multi-media messages, including:
Promotions
Seasonal sales
Personalized merchandise suggestions and offerings
Educational content — think articles, videos, infographics, etc.
Product or service "sneak peeks"
Feedback surveys
Games and quizzes
Send these messages consistently, using professional content marketing programs and sharing on your well-maintained social media profiles.
8. Consider a Loyalty Program
Treat your customers like VIPs through loyalty programs personalized toward what they most value.
Loyalty programs have long been a staple of successful customer retention strategies — and for good reasons. These "insider" tiers reward those who make frequent purchases from your business with discounts, special goods, unique content, exclusive event access and more. And while loyalty programs may seem ordinary, they have a significant impact on consumer relationship building.
9. Review How You're Currently Incentivizing
Customer retention strategies allow businesses to present the right kind of incentives to customers — ones that compel them further than what converted them in the first place.
Review your current incentivization strategies, including upselling or cross-selling techniques. Consider adding suggested merchandise filters onto your online checkout, if you have one. You can even review your business' unique value proposition, ensuring it speaks directly to the wants and needs of your target consumers rather than making broad, empty promises.
10. Be Personal and Proactive, Always
The essential part of any successful retention plan is to be all-in. Exude positivity and warmth with each customer interaction, while setting aside resources to identify what core problems and opinions your customers genuinely hold. Then go about eliminating these issues before they strike, further positioning your business as your customers' loyal, trusted choice.
And remember: Don't rush! Customer relationship-building is like any other relationship-building. It takes time, attention, warmth and consistency. Adopt some new ways for customers to connect with you, learn what they really value, then begin crafting brand messages and collateral that speaks to it. Oh, and don't forget to say "thank you" here and there along the way. In the end, you'll have created an anticipatory customer service pipeline courting customers for years to come.
Searching for a Boost to Retain Your Customers? Contact Towne Answering Services

Phone call processing services from Towne Answering Services can take many traditional customer interactions off your shoulders. It's the perfect solution for businesses expanding their retention strategies — as well as those seeking new customer-facing channels, yet without the capacity to manage everything themselves.
Learn more about our extensive line of Standard Answering and Specialty Answering services for businesses, then drop us a line when you're ready to solve the next piece of your customer service and retention strategy.