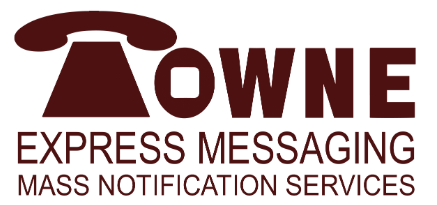 Express Messaging Services
We live in uncertain times where an emergency can arise with little or no warning. As a business owner, you may need to reach all your employees and alert them as quickly as possible to ensure their safety. While you might depend on social media to get the word out, it's likely that some members of your workforce don't use or won't have access to these platforms. They won't become aware of an urgent situation — until it's too late. 
In troubling times, text, email and the telephone still provide the most reliable and efficient mass communication solutions. Towne Monitoring provides express messaging for businesses that enable you to reach your staff quickly — without tying up your systems. With Towne Express Messaging, you'll have peace of mind knowing you can contact every member of your team during an emergency.
Flexible Express Notification Services to Meet Your Unique Business Needs
We'll work closely with you to develop and implement a customized mass notification service for emergencies and non-emergencies alike, using a combination of text, email and telephone contact methods:
Text messages (SMS) delivered at a rate of up to 10,000 per hour (165 per minute)
Instant email messages with no volume limit
Telephone notifications up to 5,000 calls per hour during a "normal" situation and more during an urgent situation
You can import your contact lists directly into the system and make quick updates as needed. Your contacts can elect to receive notifications by one, two or all three methods. You'll also have the flexibility to create specific distribution groups, such as by facility, branch or job function. You can even reach remote employees, such as on-the-road salespeople or work-at-home members of your team, as well as your customers.
Benefits of Implementing Our Express Messaging Service
Towne Express Messaging Notification Services provides numerous benefits for your business, such as:
Reliable communication that ensures you'll reach every team member during an emergency
Sending messages to your staff via their preferred method(s) of communication results in a compelling message and enhanced engagement
Improved customer satisfaction by keeping customers informed of your current situation and how it impacts them
Cost-effective solution that reduces your dependency on human labor and resources
You'll also find that our express messaging service is easy to use and integrate. Because it relies on external systems, it won't interfere with your organization's infrastructure — there's nothing to install on your servers. You'll have fixed rates and unlimited use, as well as the choice of flexible monthly, quarterly or annual billing plans. 
Contact Us to Learn More About Express Messaging for Businesses
Make sure your business is ready to get the word out during an emergency. Contact Towne Monitoring to learn more about how our express messaging services can facilitate fast, reliable communication when you need it the most. For more information or to schedule a no-obligation demo, give Doug a ring at 877-392-6450 or send him an email at doug@townemonitoring.com today.