Answering Service for Contractors
If you're a plumbing, HVAC or electrical contractor, the telephone is as important a business tool as a wrench, screwdriver or pliers. Timely, professional phone service gives you an edge in today's ultra-competitive business climate and makes you more responsive to the needs of your customers.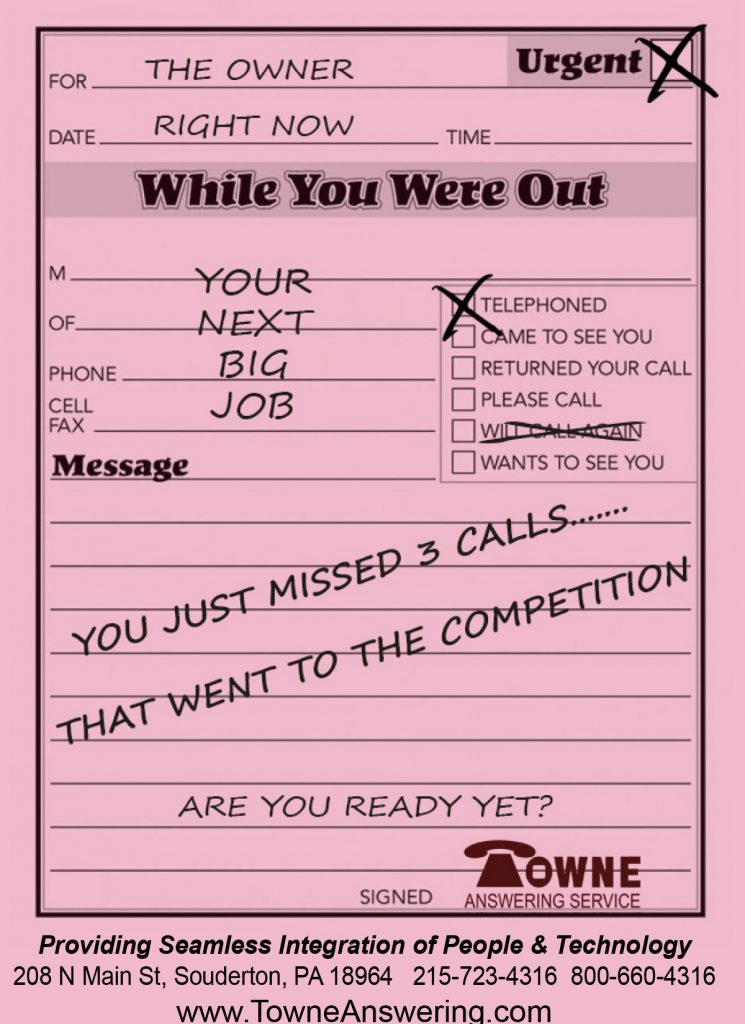 Towne Answering Service can provide highly-trained live operators who will deliver the prompt, reliable, 24/7/365 phone service that will give you peace of mind from knowing your customers are receiving the care and attention they deserve.
We Offer Much More Than "Typical" Electrical, Plumbing and HVAC Phone Answering Service
There are plenty of phone answering services for plumbers, HVAC and electrical contractors that take messages and provide basic information about your company. At Towne Answering Service, our U.S.-based operators receive industry-specific training that enables them to deliver a higher level of service to your customers.
Your callers will think they're speaking with a knowledgeable employee of your company instead of an answering service. 
An Array of Contractor Answering Services Tailored to Your Business Needs
You'll have access to an assortment of standard telephone answering services for electrical, plumbing and HVAC contractors we can tailor to your company's requirements. We can work with you to create customized scripts that can change automatically based on the time of day and even the time of the week.
Understanding the importance of being available for emergencies, we can also provide After Hours service, where our operators follow specially-developed protocols for dispatching emergency technicians or service personnel. Our Dispatch Services can deliver information to your on-call technicians according to predetermined criteria such as location or skill level.
You can also choose from a variety of specialized services that can enhance your productivity and efficiency. Our Appointment Scheduling service allows you to focus on the installation, repair or maintenance task at hand instead of worrying about fielding scheduling inquiries. Our Email Monitoring & Response Service provides around-the-clock email monitoring to ensure a timely response to urgent messages from customers.
Every service we offer includes our unique blend of the latest technology and the personal touch of a friendly voice to represent your business with superior customer service.

Owning a small business presents many different challenges and the most difficult is having someone answer the phone 24/7. Since contracting Towne to do this for me I haven't missed a single call and my customers are very happy talking to an actual person when they call for service. Towne sends me direct messages with contact info, email addresses, etc., and I can connect with potential customers within seconds of their call to my office. The service cost 1/10 of what it would cost me to hire someone and I estimate Towne has landed me over $25k in business I would have missed if phone calls were not answered (just 1 month in btw)!!!!
Advanced Technology Featuring Built-In Redundancies
Speaking of technology, our state-of-the-art call center for independent contractors in Pennsylvania is fully equipped to handle heavy call volumes without concerns about service disruptions. We protect all systems with redundant power supplies from multiple sources coupled with multiple Telco and Internet providers.
This has helped Towne Answering Service attain the coveted ATSI Gold Star Site Certification. We're certified for an impressive uptime rate of 99.999%.  Learn more about our redundancies here!
Contact Us to Learn More About Plumber/HVAC Contractor/Electrician Answering Services
With more than 65 years of experience, you can trust Towne Answering Service to deliver the exceptional answering services your customers expect. Our unwavering commitment to providing customized solutions, proactive customer service and unmatched value set us apart from our competitors.
Give us a call at 215-723-4316 for more information today. Towne Answering Service: Providing Seamless Integration of People & Technology.
Certifications
& Associations: